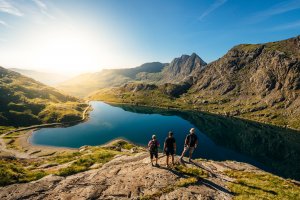 Things to do in Snowdonia
Campervan holidays in Snowdonia helps to experience some the of the most beautiful scenery that North Wales holidays have to offer. Snowdonia was recently named as the most beautiful national park in Europe, and we couldn't agree more! There are plenty of things to do in Snowdonia, for both families and adventure seekers, so you should definitely visit North Wales.
Snowdon
Of course, Snowdonia is synonymous with the historic Mount Snowdon. The mountain itself is over 3,000 feet tall and has drawn climbers to it like a beacon for many years. The views are spectacular, and the climb is both challenging and rewarding. Even if you're a beginner in hiking, you shouldn't find the walk too strenuous. There are tracks aimed at different levels of difficulty, so you'll be able to find something suited to your ability. During the summer, you can even board the Snowdon Railway, a nifty little train that takes only an hour to get to the top of Snowdon whilst indulging you in beautiful views!
Snowdonia National Park
Even if you're not enthralled by climbing Snowdon, a North Wales holiday isn't complete without visiting Snowdonia, the national park. There are plenty of smaller hills, lakes, and different terrain perfect for a day of less stressful walking. When you choose to book your North Wales holiday accommodation with us at Anglesey Holidays, you can retire to a comfortable bed on your return.
Mountain Zoo
For family holidays in North Wales, an obvious place we'd love for you to visit is the Mountain Zoo. From big cats like the tiger and the snow leopard, to meerkats, to alligators, there are so many animals to meet. There are even animal experiences you can join such as feeding the penguins and watching sea lion training sessions and chimp encounter shows. This is just about as dynamic as a family holiday to North Wales gets, and any souvenirs can be brought back to your hire holiday home and be mementos of a great day.
Adventure Days
Adventure Parc Snowdonia is a great attraction for young families and active couples, because here you can learn to surf and paddle board. Surf Snowdonia offers the world's first inland surf lagoon, generating its own waves that are guaranteed to be surfable, so you can learn in a safe and controlled environment. There are also plenty of indoor activities too – think 100 metres of indoor caving, climbing walls, and aerial assault courses. For children (and adults!) that can't sit still, this will definitely be a welcome run-around during your day in Snowdonia!
Contact us to speak to a member of our team, click here to find out about our holiday home hire availability. We can't wait to introduce you to everything Snowdonia and North Wales has to offer!