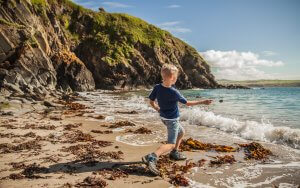 Things to do in Pwllheli
Pwllheli is lovingly referred to the Llyn Peninsula's capital, as it is a tourism hot spot with plenty to see and do that somehow still manages to feel local and quiet. Whether you're looking for outdoor adventure or culture when you visit North Wales for a campervan holiday or luxury holiday cottage rental. Anglesey Holidays is family-run, so we only recommend the places that we've sampled and enjoyed ourselves. Without further ado, here's our list of things to do in Pwllheli when visiting.
Pwllheli Beach
You can't visit Pwllheli without visiting Pwllheli beach! This is the ideal spot to spend a morning and afternoon if you're looking to relax, because even in the height of summer it still manages to feel quiet and serene. Sandy with a smattering of pebbles, Pwllheli beach offers a lovely natural spot to park up and enjoy an outdoorsy day. If having a paddle in the morning and watching the sun set over the sea is your idea of a beautifully relaxing holiday in North Wales, then you'll definitely appreciate our hire campervans and being able to travel to this destination.
Llyn Coastal Path
The Llyn Coastal Path is one of the jewels of North Wales, because you can walk the coastline of the Llyn Peninsula to enjoy the beautiful natural surroundings. You can start this journey at any point around the Llyn Peninsula, but for those who are a fan of driving holidays this might be fun to do in a campervan, stopping at each town and community to enjoy the beach and the local amenities.
Culture and Arts
Abersoch is very cultural and hip, but if you're a fan of quieter culture especially for a family holiday or relaxing get-away then you can experience just as much culture in Pwllheli. For example, visit Plas Glyn y Weddw, a free-entry art gallery full of paintings and sculptures with an outdoor café space. Alternatively, visit Plas yn Rhiw, a 17th century manor house lovingly restored to working function by 3 sisters and staffed by volunteers waiting to tell you of the local history. The garden seems to bloom all year round and is great for scenic views and family outings.
Dedicating some days to exploring Pwllheli is definitely worth your time, especially if you're planning on using your hire campervan to holiday around different spots of the Llyn Peninsula. You can travel along the coast to experience what each seaside town has to offer, giving you a true sampling of North Wales. We don't think there's a better way to spend your bank holidays, summer holidays, and even the odd weekend.
Contact us to speak to a member of our team, click here to find out about our holiday home hire availability. We can't wait to introduce you to everything Pwllheli, the Llyn Peninsula, and North Wales has to offer!