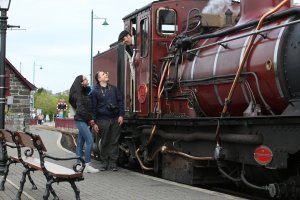 Things to do in Porthmadog
Porthmadog is a beautiful little harbour town full to the brim with maritime history and local culture. There is plenty to do and see here, but its also the perfect place to start your journey around North Wales, using it as a base before travelling further afield to the surrounding areas. There are plenty of things to do in Porthmadog, for both families and for the young at heart, providing you plenty of reasons to visit North Wales!
The Ffestiniog & Welsh Highland Railways
The Ffestiniog Railway takes you on a 13 1/2-mile journey from the harbour in Porthmadog to the slate-quarrying town of Blaenau Ffestiniog. By winding along hillsides, mountains, lakes, and waterfalls, you'll experience the natural beauty of Wales from a comfy carriage in a historic steam locomotive. This a beautiful way to spend a day, and you can even explore the town of Blaenau Ffestiniog and the surrounding hills before getting on a train back to Porthmadog. For a cosy tour of the Welsh countryside, this is definitely one of the top things to do in Porthmadog, especially for train enthusiasts!
Black Rock Sands Beach
When you're on a family holiday in North Wales, you have to visit Black Rock Sands beach, especially during the summer season. The sand is fine – no pebbles here – and when the tide recedes you can explore all of the hidden rock pools and caves along the rocky beach walls. You can even enjoy staying close to this beach if a morning stroll on the sand takes your fancy. Why not bring your dog along for the trip, and have them run and splash and tire themselves out!
Visit Portmeirion
Portmeirion is a great example of exploring the areas surrounding Porthmadog. Portmeirion is a tourist village that has been designed to replicate an Italian village, so it has a unique charm different to anywhere else along the Llyn Peninsula. Here you can visit the beautiful Harlech beach, Afon Glaslyn estuary, and Llyn Cwm Bychan lake and trails to spend a bit of time outdoors and exploring nature. Portmeirion village itself is brimming with restaurants, shops, a spa, and even an Italian-style gelateria to mirror its architectural heritage. There's so much unique culture here, and it's only a stone's throw away from Porthmadog.
Contact us to speak to a member of our team, click here to find out about our holiday home hire availability. We can't wait to introduce you to everything Porthmadog and North Wales has to offer!