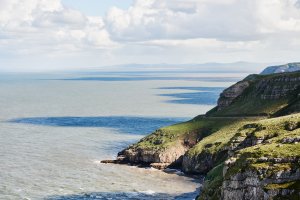 Things to do in Llandudno
Llandudno is a great part of North Wales to explore, especially when you have a cosy rental holiday home to return to after a day of adventuring. A beautiful coastal town, Llandudno has been a favourite for family holidays in North Wales for some time now, and with good reason! Our family loves it, so we want to share with you all of the places you should visit when you come to Anglesey Holidays for a campervan holiday or stay in our accommodation.
Great Orme
Of all of the things to do in Llandudno, visiting the natural beauty of Great Orme is very high up on the list. A limestone headland springing straight from the sea, this country park offers the best starting point for getting up close and personal with geology, archaeology, wildlife, and history. You can board the Great Orme tramway for a scenic ride up the country park, or walk it yourselves. Either way, you'll enjoy beautiful views. There's even a nature trail and a Bronze Age mine you can visit, so this really is a great family day out. After all of this adventuring, you'll return to your hire campervan or holiday accommodation feeling nice and tired after spending the day with one of Llandudno's most talked-about sights.
Hitting the Slopes
Did you ever think you'd take your family skiing during your holiday in North Wales? We bet not! Llandudno Snowsports Centre offers outdoor dry slopes for skiing, snowboarding, tubing, and tobogganing. This is the perfect activity you never thought you'd try, and what better excuse for it than 'we're on holiday'? When you're all tired out from your day of action and sports, you can retire to the Alpine Bar and Kitchen for food and drinks and a beautiful view of the bay. Well-fed and well-tuckered out, you'll have had a jam-packed day before returning to your hire holiday accommodation.
Llandudno Pier
Llandudno pier is a Grade 2 listed pier that stretches over 2,000 feet into the sea. There's a bar that boasts live jazz, cafes, freshly cooked donuts, a traditional sweet shop, and of course the traditional chips on the prom. There's also a family arcade and plenty of events on during the summer, so you can look out across the sea whilst enjoying a cold drink and something sweet to snack on. If you're exploring the coastline, then this is a great place to stop off and sample some local food and drinks.
Contact us to speak to a member of our team, click here to find out about our holiday home hire availability, or click here to book your campervan holiday. We can't wait to introduce you to everything Llandudno and North Wales has to offer!