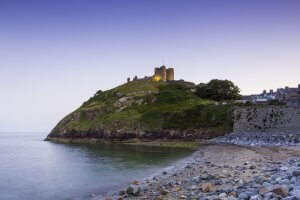 Things to do in Criccieth
Criccieth is a part of the expansive Llyn Peninsula, an Area of Outstanding Natural Beauty (AONB), and offers many different ways to spend your time. The seaside town has everything you'd imagine it to, as well as some hidden gems you may not have realised. A gateway to Snowdonia, Criccieth is a very popular destination.
Criccieth Beach
When you visit North Wales, you should definitely visit Criccieth beach. Peppered with shingle and a few rocks, it's a quintessential Welsh beach that is clean and quiet. Flanked by green hills and with a view of Cardigan Bay and the castle, it's a lovely little stroll if you've got a thermos of hot chocolate and want to relax listening to the sea. If you fancy braving the cool waters, you can go for a wild swim! You can walk from one end to other to a pub or restaurant, and even take the dog for a stroll if they're staying in your campervan hire with you.
Criccieth Castle
As far as things to do in Criccieth go, visiting Criccieth Castle should also be on your list. As a landmark site and piece of history, the castle stands as a memorium to wars of bygone years. This is the castle that you can see from the aforementioned beach, and it is positioned on the headland to look out over the blue sea. The old bricks still stand, and it makes for a beautiful picture and stroll up the steps. The castle overs a 360-degree view of the surrounding greenery and sea, as well as informational exhibits for those curious about the history to take some facts away with them.
Exploring the Llyn Peninsula in a Holiday Campervan
Criccieth is but a stop along the beautiful coast, with the entire Llyn Peninsula on your doorstep to explore. The many benefits of a hiring a holiday campervan means that you can travel along the coastline and countryside and stop off at different places along the way, waking up to beautiful natural surroundings and the sound of the sea. This is incredibly popular for families and couples who want to visit North Wales for a little bit of adventure and for a holiday that is truly different from the others. Of course, Anglesey Cottages also offer luxury holiday cottages for hire, but the campervan holidays are just as fun!
Contact us to speak to a member of our team, click here to find out about our holiday home hire availability. We can't wait to introduce you to everything Criccieth, the Llyn Peninsula, and North Wales has to offer!