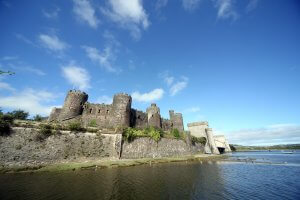 Things to do in Conwy
Conwy is a beautiful coastal town that you definitely shouldn't miss on during your North Wales holiday. Using your hire holiday home as a base, you can explore all that Conwy has to offer, from historic castles and walls to beautiful coastlines, and even little novelties like the smallest house in Great Britain! Whether you're planning a campervan holiday or visiting one of our beautiful guesthouses, there's so much to experience here. Here are some things to do in Conwy during your visit with us at Anglesey Holidays.
The Smallest House in Great Britain
The Smallest House in Great Britain is only 6 feet wide and just over 10 feet tall, which really is tiny. It was a fun novelty day for our family, and we're sure it'll be just as fun for yours! It was lived in right up until 1990 by a fisherman who was 6ft 4! The house may be small but it's extremely practical – there's just enough room for a single bed, a fireplace and a coal bunker. The atmosphere inside is novel and warm, and its definitely a funny little novelty to be able to say you visited the smallest house in Great Britain before returning to your full-sized rental holiday home.
Conwy Castle and Castle Walls
Conwy Castle is what every child imagines a castle as being – a huge fortress with battlements protected by a ring of stone castle walls. With eight lofty towers and newly restored spiral staircases, you can now complete a full walking circuit of the castle and learn all about King Edward I. This is a great day out for young families because you can enjoy beautiful views of Snowdonia, explore the dungeons, and visit nearby cafes for a light lunch afterwards. This will make a really lovely addition to any family holiday in North Wales, especially when you stay with us at our holiday accommodation or stay in one of our campervans for hire.
Boat Trips at Conwy Estuary
Being situated so close to the coast and an estuary, there are plenty of opportunities for sightseeing cruises. A boat trip will ensure you see all of the local sights and perhaps even some local wildlife, so this is perfect for young children and bird watchers. A lot of the boats are dog, pram, and wheelchair friendly, so everyone can enjoy a trip on the water. Depending on the weather, some tour operators even offer roofless boats so you can see Conwy in the sunshine. Remember the sun cream in this case, and enjoy the coastline and estuary of Conwy on your North Wales holiday.
Contact us to speak to a member of our team, click here to find out about our holiday home hire availability, or click here to book your campervan holiday. We can't wait to introduce you to everything Conwy and North Wales has to offer!