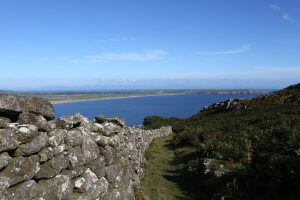 Things to do in Abersoch
Abersoch is quickly becoming a very exciting family holiday destination. The culture is evolving into a more modern atmosphere and it's now the newest stay-cation hot spot for those with young and teenage children. As part of the Llyn Peninsula, Abersoch is a popular destination for those who choose campervan hire for their holiday, because you can drive up and down the coast and stay where you wish. This might even mean beside the seaside or on a beautiful hilly green space.
If you're looking for things to do in Abersoch and are looking forward to your holiday in North Wales, you need Anglesey Holiday's brief dip into what Abersoch has to offer.
Porth Neigwl (Hell's Mouth)
Hell's Mouth is a sandy beach in Abersoch on the south coast of the Llyn Peninsula that is dog friendly, with plenty of space for running around and paddling. There's free parking before a short walk to the sand, and the beach allows for a nice 4-mile walk. The beach is popular with surfers because of the rolling water, and it is flanked by greenery and slopes. It's very quiet here, even during peak season, and its expanse means that even when it is busy you can still have a relaxing stroll. Because of this understated natural beauty, the landscape around here is perfect to park your hire campervan for your holiday. Also, for the more adventurous of you, there's a Hell's Mouth surf school to get you out and on the spray – ideal for the young and the young at heart!
Abersoch Main Beach
During the summer, Abersoch main beach is a magnet for local surfers, sailing enthusiasts, families, and dog-walkers. If you're looking for a family day-out of paddling and building sandcastles in the summer, then this exciting beach is definitely where you'll want to take your littler ones. If you'd like more a tranquil experience, then an early morning walk or an off-season stroll will reward you with a far quieter beach. Nevertheless, its around 3-miles of sand and sea with various coffee shops flanking the sand. Just like Hell's Mouth, there's a little bit of something adventurous here too – a sailing school! You can choose to walk along the sand, relax in your surroundings, or get out onto the water. This is another area of natural beauty that would be great to park your hire holiday campervan near, especially if you want to wake up to the sound of the rolling waves.
The Cim Farm Circular Walk
A popular walk for all of the family, the Cim Farm circular walk is a low-impact and manageable walk that takes you through countryside, coastline, and alongside local pubs. As a part of the All Wales Coastal Path, an 870 mile stretch of path, this circular walk is a nice slice of coastline to stretch your legs over. You get a brilliant view of St Tidwal's Islands, one of which famous outdoorsman Bear Grylls owns, before you happen upon a dog-friendly pub, the St Tudwal's Inn. Because you're walking alongside a working farm, dogs must stay on the lead, but when you're on the beach then they can obviously run free. This is the perfect way to tire you out before returning to your luxury holiday cottage for rent or your campervan hire.
Contact us to speak to a member of our team, click here to find out about our holiday home hire availability. We can't wait to introduce you to everything Abersoch, the Llyn Peninsula, and North Wales has to offer!