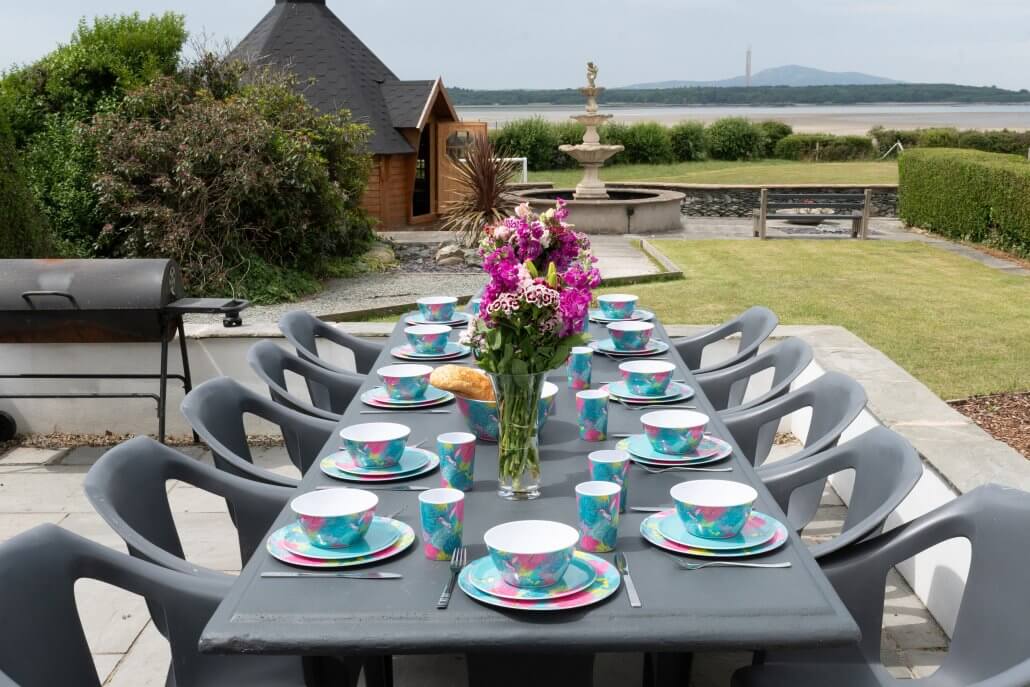 Facilities
Description
Prices, Availability & Booking
Gallery
Full Terms & Conditions
If you're visiting Anglesey with your family, why not stay in Trefonen House, our beachfront holiday home hire set within its own grounds, that sleeps up to 7 guests.
Usually the house can accommodate up to 18 guests but we are able to offer midweek low occupancy deals during low and mid season when there isnt much demand for large properties. The self-catered holiday accommodation will offer full use of the hot tub, BBQ hut, play area, fire pit and large gardens. There are 3 bedrooms available for use, the other 4 of the bedrooms will be locked off.
We are able to open extra bedrooms to accommodate your party if needed for an additional fee. Please contact us to discuss your requirements.
Our low occupancy offer is only available during low and some mid season, excludes weekends, school holidays and the months of June through to the end of August.
What's included in the low occupancy  offer:
6-seater hot tub
BBQ hut
Fire Pit
A spacious garden to enjoy
Use of the children's outdoor play area and trampoline
Direct access to the beach
Amazing sea views
3 sea-view bedrooms (sleeps up to 7, cot available)
Master bedroom with en-suite (superking size bed)
Twin room
Triple sleeper bedroom (double on the bottom, single on the top)
Wi fi
Dog friendly – Maximum of 3 well behaved dogs (extra fee applies)
Trefonen House – Beachfront Anglesey Holiday Home
If you're looking for an Anglesey holiday accommodation that offers breath-taking sea views, this is the place for you. As part of the reduced occupants deal, you will have access to all of the downstairs rooms, and first floor bedrooms, all of which offer this gorgeous sea view.
Our holiday home hire is located under a mile from the centre of Valley with local shops, cafes, pubs, take ways and a petrol station. The house is a fantastic location to stay whilst exploring everything Anglesey and North Wales has to offer.
Specifications
This self-catered holiday home boasts an open-plan kitchen diner, perfect for food prep and enjoying meals as a family. With plenty of comfortable seating and a log burning fire, you'll certainly be able to kick back and relax in this holiday rental home, and spend some good quality time together. There are fantastic views out of the lounge and French doors leading onto the property's patios/BBQ area.
The master bedroom contains a super king size bed, complete with an en-suite for maximum comfort and a seating area to enjoy the views. The holiday accommodation has a further 2 bedrooms that can be accessed for smaller bookings, that can sleep a further 5 guests, with twin beds and a triple sleeper (bunk bed with double on bottom and single on top) as well as a cot, should you require.
There is also a modern luxurious family bathroom, which contains twin basins, bath, toilet and a separate double shower. Bed linen and a bath towel for each guest are included but it is recommended that guests bring additional towels and beach towels.
Outside, you will enjoy a 6-seater hot tub, BBQ area and access to the beach via private steps where there are a vast number of rock pools for children, and adults alike, to explore.
There is also ample parking, making our Anglesey holiday accommodation incredibly accessible.
Well behaved dogs are welcome – extra charge of £25 per dog, but we ask for a MAXIMUM OF 3 dogs only. We also kindly ask that dogs remain in the downstairs area of the holiday property.
Our low occupancy offer is only available Monday-Friday during low and  mid season when there isn't much demand for larger properties, it excludes weekends, school holidays, Christmas and New Year and the months of June through to the end of August.
Click on any image to enlarge (and start a slide show)
Booking Terms and Conditions for Trefonen House Limited (THL)
Bookings placed after 1 June 2020 and before the 4th February 2021 are covered under a different set of Terms and Conditions and are available by emailing info@angleseyholidays.wales if these apply to your booking.
These booking conditions are between 'us', Trefonen House Limited (THL) and 'you', the holiday guests who wish to book our property. References to 'you' or 'your' are references to the person making the booking and all members of the holiday party.
Any booking is subject to the conditions below and by paying a deposit you are agreeing to our terms and conditions. (These do not affect your normal statutory rights) We reserve the right to amend or change these T &C's.
We have the right to ask guests to leave the property if we deem them to be breaking any of the terms and conditions set out in this document.
Covid 19 (see 3 for cancellation policy)
It is the guests responsibility to ensure that their booking is compliant with the guideline set out by the Welsh Government. Please note that guidance for England and Wales do differ.
Check in and check out times may need to amended to allow more time between changeovers.
Any guest who feels unwell should not travel or check in to the property. Our standard Terms and conditions apply if you do need to cancel your stay due to one or more of the party becoming unwell. Please ensure you have adequate travel insurance to cover you.
If you or any of your party becomes unwell and develops Covid-19 symptoms whilst staying at the property you must inform the owners immediately. All members of the party must vacate Trefonen House and return home immediately to arrange a test. There will be no refund for loss of days. If for any reason you are unable to travel home and have to self isolate at the house then all lost rental income affected by the self isolation or closure of Trefonen House for deep cleaning is the borne by yourselves.
We may close facilities with no notice for hygiene, maintenance or safety reasons.
Some items maybe removed from the house to avoid cross contamination including but not limited to: leaflets, cushions, toys, hair dryer, books, games, some kitchen equipment.
Please note that the cleaning company will charge a soiling fee if dirty pots and waste are left on check out. This fee will be passed onto you and be retained from the damage deposit.
Making and paying for your booking
(Applies only to bookings made via Anglesey Holidays and not via 3rd parties such as Airbnb, Holiday Lettings & VRBO. Please see their website for payment terms.)
Bookings are CONFIRMED on receipt the deposit of 25% of the booking cost. The deposit must be paid at the time of booking being placed, dates will not be held without a deposit.
Once the deposit has been paid you will receive an email confirming the booking.
The balance is payable at least 8 weeks (56 days) before arrival. If you fail to make a payment due to us in full and on time we may treat your booking as cancelled by you.
Please note: we do not except bookings that consist of Stag Parties, Hen Parties or groups of young adults either same sex or mixed sex.
Damage Deposit
A damage deposit is payable of £500 on all bookings. The damage deposit may be used for any repair and/or replacement of the property, furnishings, fixtures, fittings, hot tub and any additional cleaning costs (anything more than our usual fixed changeover cleaning costs).
(If booking the low occupancy offer please also refer to point 17)
An inspection of the property is carried out prior to your arrival and again after your departure and you are liable for any damages/breakages and costs incurred to us as a result of your occupancy.
We will aim to return the damage deposit to you within 7 days after departure following the return of keys and after the check-out inspection, less any deductions in accordance with the conditions listed above.
If you do notice any damages or breakages on arrival please inform us as soon as possible.
Bookings via Anglesey Holidays: The damage deposit payable at least 3-4 days before arrival by bank transfer or credit/debit card via pre-authorisation. If a pre-authorisation is  your chosen method it will show as a pending payment on your account, the transaction should be cancelled within 7-10 days after check out. If paid via bank transfer it will  transferred back with 1-2 days less any costs incurred.
Bookings via Trip Advisor/VRBO/Air BnB; the damage deposit is handled by the 3rd party company. Please refer to their terms on how the damage deposit will be handled.
Cancellation policy
a/ If your booking has to be cancelled because our property is put under Government Restrictions and has to close and the period of closure covers your booking. You will be able to move your booking to alternative dates (prices may vary) or be refunded less a £50 admin fee.
b/ In the event that Your given address is put into Local/Regional Lockdown, rendering You unable to travel, and the period of restriction covers your booking. You will be able to move your booking to alternative dates (prices may vary) or be refunded less a £50 admin fee.
c/ If your booking has to be cancelled because our property has to close through Force Majeure, meaning any of the following circumstances which may hinder or prevent the performance by us of the Contract, including but not limited to: (a) acts of God, flood, drought, earthquake or other natural disaster; (b) epidemic or pandemic; (c) terrorist attack, civil war, civil commotion or riots, war, threat of or preparation for war, armed conflict, imposition of sanctions, embargo, or breaking off of diplomatic relations; (d) nuclear, chemical or biological contamination or sonic boom; (e) any law or any action taken by a government or public authority, including without limitation imposing a restriction, prohibition, or failing to grant a necessary licence or consent; (f) collapse of buildings, fire, explosion or accident; (g) non-performance by our suppliers or contractors; and (i) failure of utility service, and the period of closure covers Your booking You will be refunded in full.
THL will not be liable for any damage caused by acts of God (ie: storms, floods) to guests belongings and processions.
We will not be able to offer use of the hot tub during a hosepipe ban. Compensation will not be offered or payable if the hot tub is unable to be used as drought is seen as an act of God and is beyond our control.
d/ Customer inability (or the inability of any, some or all of Your intended party) or disinclination to travel to and stay at our property for any reason.
This includes – but is not limited to – illness (including Covid), a requirement or recommendation to self-isolate or quarantine, shielding, a call to jury duty, military service, incarceration, change in personal or work circumstances, family emergencies, bereavements, travel delays, vehicle breakdown, and delays with public transport.  These remain at Your risk and do not give rise to a right to cancel or to receive a refund unless We re-let the property, other than according to the sliding scale below. You are strongly recommended to take out UK travel insurance to cover these eventualities. If you choose not to take out UK travel insurance, then you accept responsibility for any loss that you may incur due to your cancellation.
e/ Cancellations must be notified to Our properties by phone and email and once received in writing we will confirm the cancellation request.
f/ Our properties will apply the scale shown in the table below to bookings to determine the amount of the charge, which shall be a percentage of the total cost of the holiday.
| | |
| --- | --- |
| Number of days before start of holiday that | The percentage of total booking value payable by the Customer |
| More than 120 days | 25 % of the booking |
| 57 – 119 days | 50% of the booking cost |
| 29 – 56 days | 75% of the booking cost |
| 8 – 28 days | 90% of the booking cost |
| 0-7 days | 100% of the booking cost |
*In order to ensure speedy receipt, and thereby processing, of cancellations, Anglesey Holidays recommends that the Customer sends written notification of cancellation by email requesting confirmed receipt. The effective date of cancellation is when written notification is received by Anglesey Holidays.
h/ On receipt of the cancellation, the above Charts state the amount that the Customer remains liable for at that point in time. Anglesey Holidays will then use reasonable endeavours to obtain a replacement booking. In the event that Anglesey Holidays is successful in obtaining a replacement booking, we will refund to the Customer the total amount paid by the Customer for the booking less an 5% Booking Fee and less the difference in price between the Customers' booking and the replacement booking if one is made.
For example:  A £1000 booking, fully paid, cancelled and relet for £900, means that the original Customer will be refunded as follows, £1000 – 5% booking fee equals £950, – £100 rebooking shortfall, = Refund of £850.
i/ It is the responsibility of the Customer to acquire suitable travel insurance for themselves and their party to cover the booking. Anglesey Holidays strongly recommends that the Customer acquires suitable insurance to cover circumstances beyond the Customers' control such as, but not limited to, jury duty, incarceration, change in personal or work circumstances, military service, illness – including Covid and shielding, family emergencies and travel delays.
Covid is also now a known risk and it is possible for you to insure your holiday against it. This can include the customer or any of the party having Covid, the customer or any of the party having to isolate or quarantine, or you wishing to shield any Members of the party.
There are several options which include cover for Covid related cancellations available from organisations like Trailfinders: https://www.trailfinders.com/insurance#/step1 or https://www.coverwise.co.uk/Travel-Insurance/corona-virus.aspx or www.gocompare.com or the Post Office. (we are not selling on behalf of or endorsing any of these insurance companies and are in no way associated with them.)
Period of Hire
You should not arrive before 4pm on the commencement date, and leave by 10am on the day of departure. (unless agreed otherwise with us) Failure to do so may result in you being charged a further day's rental. You must not use the property except for the purpose of a holiday during the holiday period, and not for any other purpose or longer period. The agreement to stay in the property for the holiday period, does not create the relationship of Landlord and Tenant between the parties. You shall not be entitled to a new tenancy, or to any assured short hold or assured tenancy or any statutory protection under the Housing Act 1988 or other statutory security of tenure now or at the end of the Holiday Period.
Smoking
The house is a non-smoking property. Smoking is permitted outside, please use the ashtrays provided to dispose of cigarette stubs.
Evidence of smoking inside the property will incur charges that will be deducted off the damage deposit.
Pets
Well behaved dogs are permitted, up to a maximum of 3 dogs. The owner needs to be informed of any dogs that will be staying at the property at the time of booking. There is an extra charge of £25 per dog.
Dogs not allowed upstairs at the property. Please use the safety gates provided to restrict the dog's access. Evidence that dogs have been upstairs may incur a proportion of the damage deposit to be retained to cover extra cleaning costs.
Please ensure you clean up any dog foul before departure.
Please towel dry wet and dirty dogs before entering the house. Do not allow dirty or wet dogs on the furniture. Charges to the damage deposit may be made if extra cleaning is required after you checking out.
No other pets allowed.
Maximum occupancy
The maximum occupancy of the house is 18 plus two infants in cots. Under no circumstances (unless agreed with he owner) may more than the maximum number of persons stated occupy the property. We reserve the right to refuse admittance if this condition is not observed. Any persons other than members of your party must not use the facilities at Trefonen House.
Maximum occupancy when the low occupancy offer is booked is 8 plus an infant in a cot.
Electric car charging
We currently do not have any car chargers at the property.
There are public chargers located across the island.
However should you wish to charge at the house there is a fee of £10 per charge. We kindly ask that guests are honest about the number of charges and pay the correct fee.
If any of your party does have an electric car they wish to charge during their stay please inform us before arrival. If cars are charged without our prior knowledge and consent then the fee will be deducted from the damage deposit to cover increased electricity costs.
Please note that we do not provide any cable, please ensure the cable you use are designed and are appropriate to be charged from domestic sockets.
You are liable for any costs to make good any issues that issues that car charging may cause.
Camping
No camping permitted within the boundary of the property including in motorhomes without prior permission of the owners.
Access codes, keys, check-in and check-out
Access codes will be sent approximately 24 hours before arrival. (if booking is via Anglesey Holidays, the access details will not be sent until the damage deposit has been received)
Please return all keys after departure, if not a charge will be reduced from the damage deposit refunded.
Check-in is from 4pm and check-out is at 10am. (During quieter months these times may be flexible.) Please contact the owners if you wish to rearrange times.
You agree that before check-out, all doors and windows are locked, the beach gate is locked too and keys are returned to the key rack or returned to the key safes as per check-in. All lights are off and we appreciate it if the kitchen bins could be emptied. The burglar alarm needs to be activated (Most probable the house will be empty during the week in quieter months)
Your obligations
You agree to comply with the regulations set out in our terms and conditions and guest information pack. You agree to keep and leave the property, the hot tub, the BBQ hut and the furnishings, including items such as kitchen equipment, crockery and glasses in clean and good condition.
You agree not to cause any damage to walls, doors, windows or any other part of the property and take care when putting up or removing any decorations including banners, balloons and signs.
You agree not to do anything that may be considered to cause a nuisance or annoyance to us or to the occupier of the annexe and neighbouring properties. Please remember that you are in a residential neighbourhood with a large number of retired and working occupants as well as families. Please ensure the noise is kept to a minimum after 11pm whilst outside or/and in the hot tub or BBQ Hut.
You agree to take all necessary steps to safe guard the house and your personal property which includes ensuring doors and windows are locked whilst out of the house and we recommend that the burglar alarm is activated.
Our Liability
THL shall not be liable for any losses which are not a foreseeable consequence of us breaking these booking conditions.
Your booking is made as a consumer for the purpose of a holiday and you acknowledge that we will not be liable for any business losses however suffered or incurred by you.
We shall not be liable for any personal injury or damage to or loss of personal property, except where the injury, damage or loss is caused by our negligence.
CCTV
CCTV is in operation around the external of the property and the front porch and is recorded. The purpose is to protect our premises, act as a deterrent for criminals, provide evidence in the case of criminal activity and provide security of our guests' property.
Hot tub
ACCESS TO THE TUB IS REQUIRED THROUGHOUT YOUR STAY IN ORDER TO CHECK AND ENSURE THE HOT TUB IS MAINTAINED AND OPERATING WITHIN A SAFE LEVEL OF CHEMICALS.
The maintenance team may arrive early on the morning of check out to empty, clean and sanitise the hot tub therefore guests are not permitted to use the hot tub on the morning of check out.
Our hot tub is drained, cleaned and refilled before every set of new guests arrive therefore it may be that the temperature of the water has not reached the desired temperature on your arrival.
DRAIN DOWN CHARGE
A drain down charge of £120 will be charged if the hot tub needs to be drained down, cleaned and refilled as a result of misuse at any point during the duration of your stay. This will be deducted from the damage deposit.
There will also be a charge if the hot tub is found to have glass in it.
In order the keep the hot tub in a clean, usable state these safety rules should be followed.
Test the chemical levels before use using dipstick provided. (contact the owners if you notice any issues)
Do not use the hot tub in windy conditions as the lid may blow shut.
Check the temperature does not exceed 40 oC. (lower for children)
Do not exceed more than 6 people in the tub at any one time.
Shower before (ideally with swimwear on to wash off detergents which can create foam in the hot tub) and after use.
Wash feet before entering the tub. (use of flip flops are recommended, foot bath provided)
Remove make up, suntan lotion, and skin creams. It is recommended that guests who use tanning products including spray tans do not use the tub.
Tie long hair back.
Wear appropriate swimwear.
Limit your soak to 15 minutes and cool off before re-entering.
Do not use the hot tub after a heavy meal or under the influence of alcohol, drugs or sedatives.
Get out to use the toilet.
Do not bring glasses or glass bottles in, use the plastic glasses provided.
Children need to be supervised at all times in or near the hot tub.
No jumping or diving.
Dry off before entering the house.
Replace the cover when not in use.
Do not sit or lie on the cover.
Consult a doctor before using the hot tub if:
o You are pregnant.
o Have a history of heart disease, diabetes, blood pressure problems, are taking medication or any other serious illness.
Chlorine
It will be necessary to top up the chlorine levels after doing a dip test. Chlorine is stored in the top corner cupboard.  Please ensure you read the instructions first. Keep children away from the chlorine.
IF YOU ARE UNSURE ABOUT ANY ISSUES RELATING TO THE HOT TUB PLEASE CONTACT THE OWNERS WHO WILL DIRECT YOU.
BBQ Hut
You agree that the upmost care will be used when using the BBQ hut and we trust that you will look after the hut and avoid any dangerous situations.
No explosive substances are to be used when having a BBQ or fire, i.e. petrol, white spirit
Children using the BBQ are to be supervised at all times.
You will leave the hut in a tidy condition.
Play area
Children should be supervised at all times whilst using the play area.
Children under 5 years of age are advised not to use the larger climbing frame.
THL will accept not liability nor is not responsible for any accidents or injuries caused while playing on the climbing frame, play equipment or the trampoline.
Half occupancy
If you are staying at Trefonen House in conjunction with our low occupancy offer, terms differ and there are additional conditions.
The refundable damage deposit is lowered to £250.
If any of the rooms that are unavailable in the offer are found to have been used then we have the right to retain some of the damage deposit to cover increased cleaning time and laundry costs.
THIRD PARTY SUPPLIERS (chefs etc)
a/ If you want to use the services of a third-party supplier whilst staying at Trefonen House you must ask and receive written permission to do so.
b/ Anglesey Holidays would need to see the third-party supplier's public liability insurance, and any other related/required certification. Our properties will then seek approval from Anglesey Holidays insurers to allow the third-party activity to take place.
c/ If all insurances and certification are satisfactory to Anglesey Holidays and our insurers, permission to invite these suppliers to Our properties will not be unreasonably withheld.
d/ Our property does not accept liability for the activities of these third-party suppliers.
Fireworks & Chinese LanternsWe have a 'No firework and Chinese  lantern Policy' at the property and kindly ask they aren't set from from the beach either as the property is in a residential area.20. Data Protection– Your personal data and information that you have provided to Anglesey Holidays will be processed for the following purposes and in accordance with our Privacy Policy which can be found on here: https://www.gov.uk/data-protection– To fulfill this contract/ agreement placed with us, including but not limited to property hire and production of the Rental agreement. Your personal data including copies of all identification documents provided and all data entered in the Rental Agreement will be retained for 7 years for the purpose of, but not limited to the defense of any legal claim(s)– We will not transfer your personal data to any third party outside Anglesey Holidays and THL, unless:

– It is to our insurer

– It is to the police, local authorities, councils

– To insurance companies if we suspect or are notified of an incident with a third party

– Our bank or merchant provider in line with transactional processing

– The third party is our subcontractor or a member of our companies, who is processing personal data on our behalf securely and in accordance with our instructions

– It is between software systems that we use for the purpose of our business

– It is for feedback on our products and services provided

– You have submitted a photo into a competition that we have run. By entering our competition, you agree to the photo(s) you submit being posted to our website, facebook, twitter, instagram, pinterest and other social media sites. We may also use it for posters and advertising and share with our partners, wholesale and web-based agents for them to use for their own marketing purposes

– It is otherwise authorised under the Data Protection Act

– We may use your personal information for marketing purposes and to keep you informed by post, telephone, sms, email or other electronic means about products and services which may be of interest to you. We will only contact you if you have selected to hear about our services and offers and we will only use the contact methods that you have agreed to. If at any point you would like to stop receiving information from us, you can click unsubscribe at the base of any email or send an email to info@angleseyholidays.wales and we will remove your name from the marketing database.

– By entering into this agreement, you agree that we can process and store your personal information in connection with this agreement.

– You agree that if you break the terms of this agreement we can pass your personal information to any relevant organisation.

– We agree to keep all personal information in a secure environment and will comply with the Data Protection Act.

21. Entire Agreement

This Agreement constitutes the entire agreement of the parties and there are no other oral undertakings, warranties or agreements between the parties relating to the subject matter of this agreement.

22. Complaints

Every effort has been made to ensure that you have an enjoyable and memorable holiday. If however, you have any cause for complaint it is important that you let us know as soon as possible so that remedial action can be taken if necessary and we can try to resolve it.