About Anglesey Holidays
We thought you might like to hear about how we became Anglesey Holidays…
We are a relatively fresh company as we have been trading since 2015.
We have visited North Wales and the Isle of Anglesey many times over the years as both children and adults and had fond memories of summers on the coastlines and walks within Snowdonia.
Over the years life took over and we became busy working within Engineering and Teaching but still visited Anglesey with our two children and our extended families.
We decided to invest in a holiday home to spend as much of our spare time as possible in the area, home was North of England so only a few hours' drive away. It became our 'Home away from Home' and we quickly realised we craved the lifestyle it offered….so…. we did it!
We took the huge plunge and moved to Anglesey.
It was a bold move but one we've never regretted.
We really wanted to give other families the opportunity to spend precious time in North Wales and give them the 'home away from home' experience we had fallen in love with.
Here started Anglesey Holidays and we've never looked back!
Ross and Jane – Anglesey Holidays
Meet Our Team
Anglesey Holidays is a small family company made up of husband and wife, Jane & Ross, our Directors.
Jane used to be a Primary school teacher, but after moving to Anglesey back in 2017, she decided to move on from teaching to concentrate on the holiday business.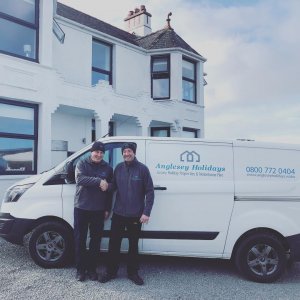 Dewi is the 'Back bone' of the company and a good friend. After trying to persuade him for a while to come and work with us, he joined Anglesey Holidays in February 2019. He was working at the RAF base in Valley and had been for over 30 years. He was in charge of making sure the land vehicles were in tip-top condition.
You can describe Dewi as a "multi-skilled guy" and can turn his hand to most things. He can be found fixing things, cleaning and maintaining the hot tubs, gardening as well the other long list of trades he does- window cleaner, decorator, bin man, joiner, fencer are just to name a few. He's always making sure that our properties are in the best possible condition for our guests.
We have two mini apprentices, George & Emily. Our 7-year-old twins like to 'help' where they can although most of their help is outweighed by the mess they create! Further training is needed I think!
The family dogs also like to get a nose in, Mickey and Minnie do a good job of testing out the gardens and chasing the birds away! And make pretty good hoovers. (Dyson has nothing on these two!!)
What Do We Do?
We provide holiday cottages in North Wales for groups of all sizes. We're a family-run business that is passionate about giving our customers outstanding coastal holidays in several beautiful locations in Anglesey and across North Wales. From couples getaways to large group accommodation, we are dedicated to providing affordable Anglesey cottages for people looking for a holiday to never forget.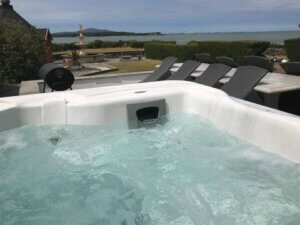 We are proud to have collected countless glowing reviews over the years, allowing us to see returning guests who come back for the unique Anglesey experience they get in our properties.
To make our customers' trips even more unforgettable, we offer extra packages and party options that include drinks like beer and prosecco on arrival. Why not treat yourself? 
With our extensive knowledge of Anglesey and surrounding areas, we can give expert knowledge about the best places to visit nearby. Whether that be for food, drinks, or activities, we make sure you have access to the best of North Wales!
To find out more about us, please do get in touch.